Do you know what is the worst part of grease leftovers? No, it's not the horrendous task of cleaning them. More likely, it's their physical property to dissolve when steamed.
At Cleaner Confessions we've seen them turn into invisible little molecules of commercial kitchen mayhem and stick forever on difficult to reach surfaces! They clog the extraction canopy filters of your kitchen. That's why putting time down to care and maintenance is an absolute must anybody who loves to cook.
The kitchen is among the dirtiest places in a property and that means action is due!
Goodbye Proper Ventilation, Hello Fire Hazard
Grease is your number one enemy, and its most vulnerable victim is the extract systems and canopy filters.
Depending on what you cook or how you cook it, as well as the capacity of your commercial kitchen, whether a little corner cafeteria or an enormous food factory tycoon, the grease quantity will be different.
In any case, as little as it is, you shouldn't ignore it as the dirt is practically able to efficiently decrease the workload of your extraction filter pipes.
Having layers of layers of dirt pile up not only worsens performance but poses a risk of various damage.
Goodbye Low Electricity Bills, Hello High Ones!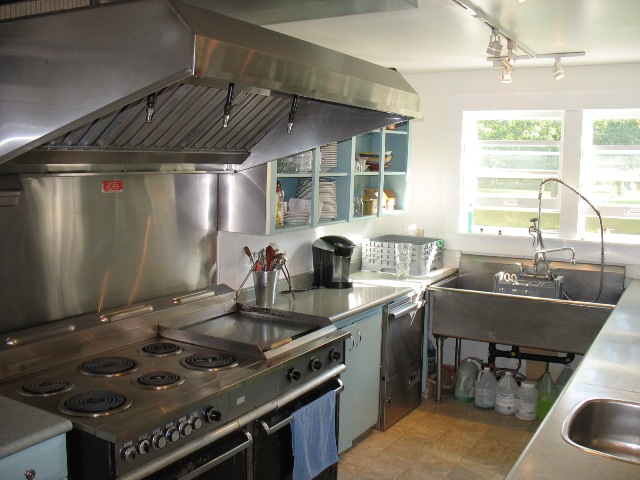 There are three different categories, considering the kitchen use:
Type #1. Kitchens include snack bars or cafés, where the biggest thing you have to cook is a muffin or fried bacon.
Then you get a type #2. Commercial kitchens – they cook for a crowd. Mostly school and work canteens fit here, but they don't have an all year round or full-day operational schedule.
The ones who do, however, fit into a type #3. It is the kind of a commercial kitchen – big restaurants, fast-food chains, and even smaller kitchens, but relying heavily on certain cooking techniques that require the usage of lots of oil, such as Asian or Mexican eateries.
That being said, you can have a clear idea of how often you should take care of your extraction filters – daily, weekly or monthly.
Don't ignore maintenance, because one of the most important qualities in a mainstream public eatery is its efficiency, not to mention quality.
Inefficient work of the canopy filter systems will lead to even more greasy air. When the molecules finish their short-lived flight around the space of your kitchen, they will leave their mark on the surfaces.
They will spread everywhere, making everything so slippery that rushing staff will potentially be under high threat of injuries. Failing to secure the safety and well-being of staff can go a long way in problems, both with the government and court.
Goodbye Light Breeze Scrubbing, Hello Deep Kitchen Cleaning
There aren't many restaurants in the world where the administration can allow their kitchen staff to allocate so much time on regular deep kitchen cleaning. Therefore, driven by economic and technological factors, proper extraction and canopy cleaning at your place frequently is a must.
For some duties, the restaurant staff shouldn't take much time and we could do them daily. Others require professional help from specialists in cleaning canopy filters, who have the know-how, experience and gear to do a fantastic job.
If you have a lot of traffic in and out of the kitchen, for example, when you own a fast-food restaurant and your waiters have to be super fast to receive and deliver orders, you must clean daily.
If a small cafeteria is what you own, the whole situation will be more relaxed and probably less worry about the cleaning duties. Working on the easy pace allows owners to dedicate time for hygiene routines and put up with standards and attitude.
Depending on the quality, material and, of course, the usage of the cooking appliances, the time frame to inspect and replace the canopies and filters greatly varies – between a quarter to up half a year. Of course, having regular oven valeting is part of you must-do, too.
Of course, the grease filters won't completely do the job on their own – they are not the perfect tools to deal with dirt.
Does your cleaning equipment include work gloves, accustomed for a tight grip, as well as having a cut-protection surface?
What about the proper cleaning agents and the know-how on how to handle and replace the position of the filter?
Are you aware of the health hazards and risk of damage associated with cleaning commercial appliances without the right know-how and gear?
Most probably the answer will be no – this is what expertly trained professionals are doing and that's why most restaurants hire an external cleaning company to do the picky job.
What About DIY Kitchen Cleaning?
The problem with cleaning hacks is they… aren't much of a hack sometimes.
In other words, either they're simply not working at all or they're leaving you with a bigger mess than the one you started with. That's anything but perfect.
And if you're going to be cleaning your kitchen for some time, you just want to have something to show for your actions, right? Well, DIY or pro, bear in mind that both hold their risk and you always need to be involved.
Final Words
According to experienced professional Lara Blanco from Cleaning Focus, hygiene is always your responsibility, but that doesn't mean you should take care of it yourself. If you don't have the time or will to do the rub and scrub yourself, you can always reach out to professionals.
Either way, cleaning is not something you can compromise with, especially if you run a commercial enterprise.