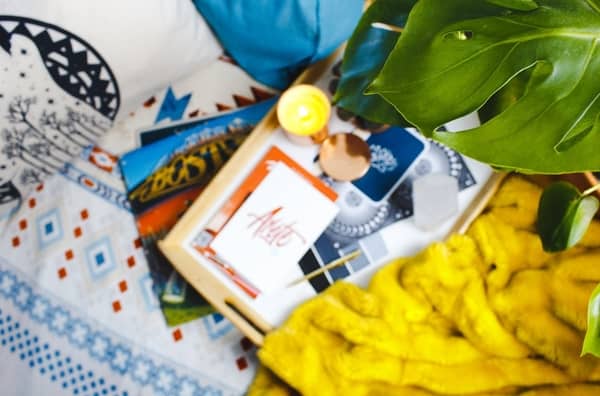 You may have made over your lounge, spruced up your kitchen and updated your utility room but there is one room that every parent dreads decorating- their teenager's bedroom. As teens will often have quite specific ideas about what they like and don't like, making changes in their bedroom can often become a battle of wills.
But if you're thinking of taking on the challenge, urban storage company Urbaboxx has come up with some expert advice to make the whole process a little easier.
1) Pinterest it.
Before you get started you need to get an idea of styles for the makeover, and that means having a good chat with your teen. Trouble is though, that often your idea of what would look great in your teen's bedroom and theirs can be worlds apart. A good tip is to collaborate on a design. Life Coach Emma Jefferys says: "Pinterest is a great way to support and encourage their creativity and ideas whilst also adding your own. Building a board together can encourage discussion and finding solutions so that you get to a final style that you are both happy with (or can at least live with!)."
2) Store it.
The one thing that teens tend to have in common is that they have a lot of stuff, so any bedroom makeover needs good storage. Tania O'Donnell, founder of Happily Tania said: "Definitely put in plenty of shelving as the best storage is just being able to place something atop a shelf." Durable and easy to clean white adjustable shelves from Urbaboxx work well in teen bedrooms. Under bed storage bags might also be handy for items that aren't used all the time like off-season clothes, sports kit and hobby stuff- keeping floors clear of clutter.
3) Change it.
If you're still not on the same page as your teen regarding the design of their room, or you're worried that they will quickly become bored of the style they're asking for then keep the style simple and add elements that can easily be changed. Tania O'Donnell says: "While you may not be willing to let your teen paint the entire room black as part of their gothic phase, you can use changeable elements such as command strips or this Urbaboxx black grid mesh display panel to allow them to put up pictures that can then be taken down and swapped out when required."
4) Tidy it.
Your teen's bedroom is the last place they will sleep before they head out into the world as adults, so it's a great time to start helping them to develop some essential life skills, like keeping the bedroom pillows fresh and clean. Tania O'Donnell of Happily Tania suggests: "Put a laundry basket in their rooms as if you don't, you may find the floor is the main place for discarded clothes. Suggest a really amazing reward (such as a mini-fridge in their room) if they stick to taking all mugs and dishes back to the kitchen and into the dishwasher at the end of each day. Timeout tidying chores by songs – so a whole album for a deep clean and a couple of songs for a quick tidy." This sturdy laundry hamper from Urbaboxx won't take up too much space but will help teens to keep their space organised. Check out the 12 cleaning mistakes you need to avoid.
5) Hang it.
As teens get older they can take more responsibility for looking after their own things like clothes and shoes. Open clothes racks are often a good idea in teen's bedrooms as they don't even have to open a wardrobe door to put clothes away! There are also no hidden corners for clothes to be thrown into. The Chrome Wire Clothes Rack also comes with shelving to store shoes and storage boxes for games and kit.
Thank you for visiting Cleaner Confessions!