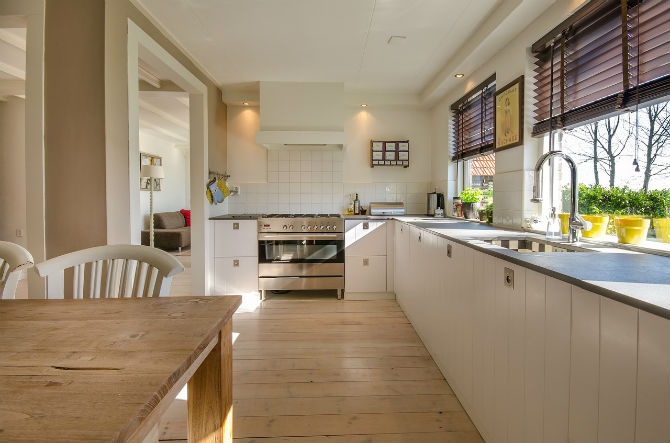 Nothing can brighten up an old and worn out kitchen like a fresh coat of paint. But what color scheme should you go for? There are so many colors out there. It's so hard to pick one from millions of choices.
The easiest way is to find out what are the trending colors in 2017. Luckily, this post will address just that.
Basically, your search for colors should start with:
Floor color;
Wall color;
Backsplash color(s);
Appliance finish;
Cabinet finish.
So, let's see what colors are the preferred choice when it comes to kitchen space in 2017:
Below we present an in-depth statistics, provided by Home Stratosphere about kitchen design trends for 2017.  One set of stats we found interesting were the five most popular kitchen colors. It is worth noting that without a proper decluttering, no color will give the desired look you are aiming for. So, make sure you start with that!
First, more about the data:
The kitchen color data was compiled from a review of 907,259 kitchen designs, which is a staggering dataset and in our view and is more than sufficient to rely on.
Without further ado, here are the most popular kitchen colors:
#1: Brown
It's not surprising the most common kitchen color is brown given that's the color of the wood.  Nearly 41 percent of farmhouse kitchens are predominantly brown or have so much wood as to give an overall color scheme of brown.
#2: White
According to the data (see below), 18.65 percent of kitchens have an overall color scheme of white.
White has been a trending kitchen color for years. It makes every room look cleaner so it's a great fit for kitchens. To get a better understanding of the psychology of white, you can take a look at this study.
#3: Gray
The grey color might be a surprising choice because it's not the first color many people turn to for interior design. However, the truth is that it is a trending color in recent years.  In fact, we suggest you look at grey kitchens and you might be pleasantly surprised. Lighter greys can look fabulous with both white and splashes of color.
11.67% of kitchens are grey.
#4:  Beige
The beige color scheme makes up 11.04% of kitchens.  This is not surprising because of the fact how popular earth tones have been in 1990's.
Beige is a color that can tie together a range of earth tones, both dark and light. I can also work great with wood. The result is a nice combination of colors that give off an overall color scheme of beige.
#5: Black
7.33% of kitchens are primarily black, which is a bit of a surprise because it's dark.  We're not entirely sure if dark brown is reported as black though… that's a possibility.  Very dark brown can look nearly black and this is popular in kitchen design.
Moreover, black counter surfaces along with black appliances and very dark floors are common which can give an overall appearance of black. People who are after a sleek look of their premises often rely on black.
While more people opt for lighter kitchens, there's a sizeable percentage of the population that prefers dark kitchens. But let's face it: sometimes things don't turn out as planned.
Be calm and simply move to the next color in line!
The data
Conclusion
The variety of colors is wider than ever before, but you shouldn't be afraid to experiment with them. If you fail the first time, all you need to do is to apply a new coat of paint, this time using different color scheme.
If you are still wondering what color to rely on, you can go through some online magazines or give a closer look at online galleries. Note what are the main colors which you see there, and try to implement them into your very own kitchen.
Thank you for visiting Cleaner Confessions!