Winter has come and gone, but is your yard ready for springtime? It's common for many homeowners to see their outdoors in an unsightly state — fences and flower beds bent, leaves and twigs all over the ground, and plants in dire need of care. Luckily for you, we've prepared a quick guide to help you learn how to clean up your yard for spring.
1) Removal of Debris
The first thing every homeowner must do is to remove all of the debris scattered around. The strong winds, rainfall, and snowfall throughout winter must have surely caused many leaves, twigs, and even branches to fall down. Get your rake to remove all of the dead leaves and wooden debris.
However, remember to wait for the ground to be completely thawed. Raking when the soil is still wet from all the snow, ice, and water could make you accidentally pull out the roots as well. Some local areas have services for regularly collecting this debris, but you can check also approach any local authorities to ask about when and where you could discard these.
Read more: A dash of garden Ideas for the Summer.
2) Compost and Mulch
Of course, you can also make good use of natural lawn debris if you don't want to throw them away. Place them in a wheelbarrow to transport them with ease. Afterwards, leaves, lawn clippings, and twigs can be placed on your compost pile. Doing so will keep them from staying on your lawn and preventing new grass from growing.
Likewise, natural debris that remains on the ground for too long will invite pesky insects, fungus, and bacteria. To speed up the decomposition of the debris in your compost pile, you should use a wood-chipper or shredder. This breaks the leaves and twigs into smaller pieces. Furthermore, you must improve the air circulation in the compost pit by turning the pile around with a garden fork. Apart from composting, the shredded lawn debris can be used for mulching.
A thin layer of mulch provides enough moisture to keep the soil relatively cool during warm days. Moreover, you can place the mulch in your compost pile after a while.
3) Conduct Pruning and Trimming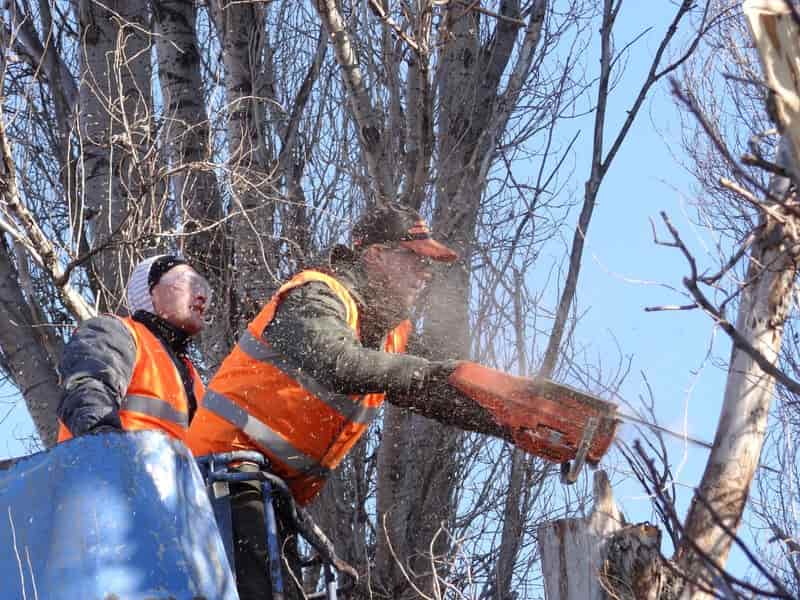 Pruning and trimming are performed to keep your yard neat and clean. Your ornamental trees and fruit-bearing trees might already have overgrown branches — reaching areas such as your bedroom window or even neighbour's property. Likewise, there could be bent and heavy branches that pose a danger to people, animals, and vehicles.
Cutting these branches down is essential both for aesthetic and safety and purposes. Don't think twice about hiring professional services if the task is too cumbersome for you. Similarly, hedges should be pruned and shaped to become visually alluring once again. Remove any spent flowers to encourage new growth.
4) Apply a Fertilizer
A spring application of fertilizer requires proper timing. Doing this earlier than necessary can be highly detrimental to plant growth. One of the most common mistakes in spring lawn fertilizing is to do it early. At this point, your grass is still developing their root systems in your soil. Doing it now forces them to focus on leaf growth and have shallow roots that cannot tolerate drought. Furthermore, your lawn might still have fertilizer from an application in late fall.   Thus, learning about fertilizing your lawn is important.
Apart from feeding your plants with sufficient nutrients, the fertilizer helps in keeping your yard neat. For one, bare patches will be covered with lush and green growth. Second, applying fertilizing to your plants only ensures that weeds cannot compete with them in spring.
5) Tend to Your Walkways
Your pathways might not look delightful right after winter. Some of the mulching material of gravel could have been displaced, so do put them back in place. Furthermore, any broken bricks or wooden steps should be replaced. Don't forget to get and use a pressure washer for walkways made of concrete or stone materials.
Read more: How to Clean and Refinish a Wood Deck?
According to MoveInnEstates.co.uk walkways is what prospect tenants see first and if you're out to rent your property, this is something you should definitely look into.
6) Tidy up your patio and cooking corner
Clear debris and dirt from your outdoor furnishing, tables, sheds, and kitchen corner. Don't have a kitchen corner? Consider a simple stove installation and the rest is rather simple.
A great addition to your exterior the purchase of comfortable and easy to maintain outdoor seating and dining furnishing. To choose the best Adirondack chairs can a tricky due to the wide range of colours and finishes, so consider your exterior wisely and think twice before you match.
In conclusion
Spring cleaning means having to thoroughly check your yard. Any debris must be removed to prevent the proliferation and diseases and pests. Moreover, we recommend using natural debris for composting and mulching. Use your rake, shovel, tree pruner, and trimming tools to keep your yard clean and organized. We hope our guide helped you out. If you have any queries, feel free to send us a comment.
Thank you for visiting Cleaner Confessions!